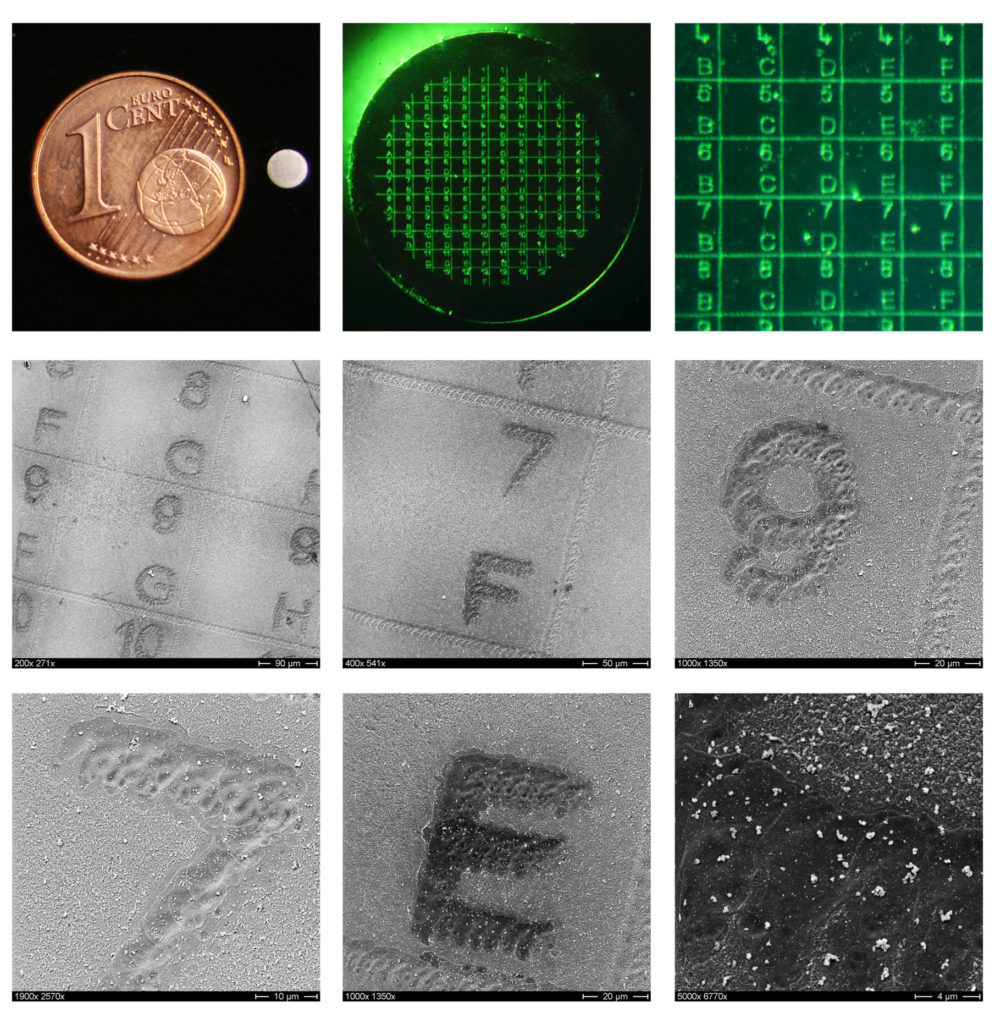 Surface engraving on 3mm sapphire wafers magnified up to 500x.
The German constitution lasered into glass - memorial in Berlin.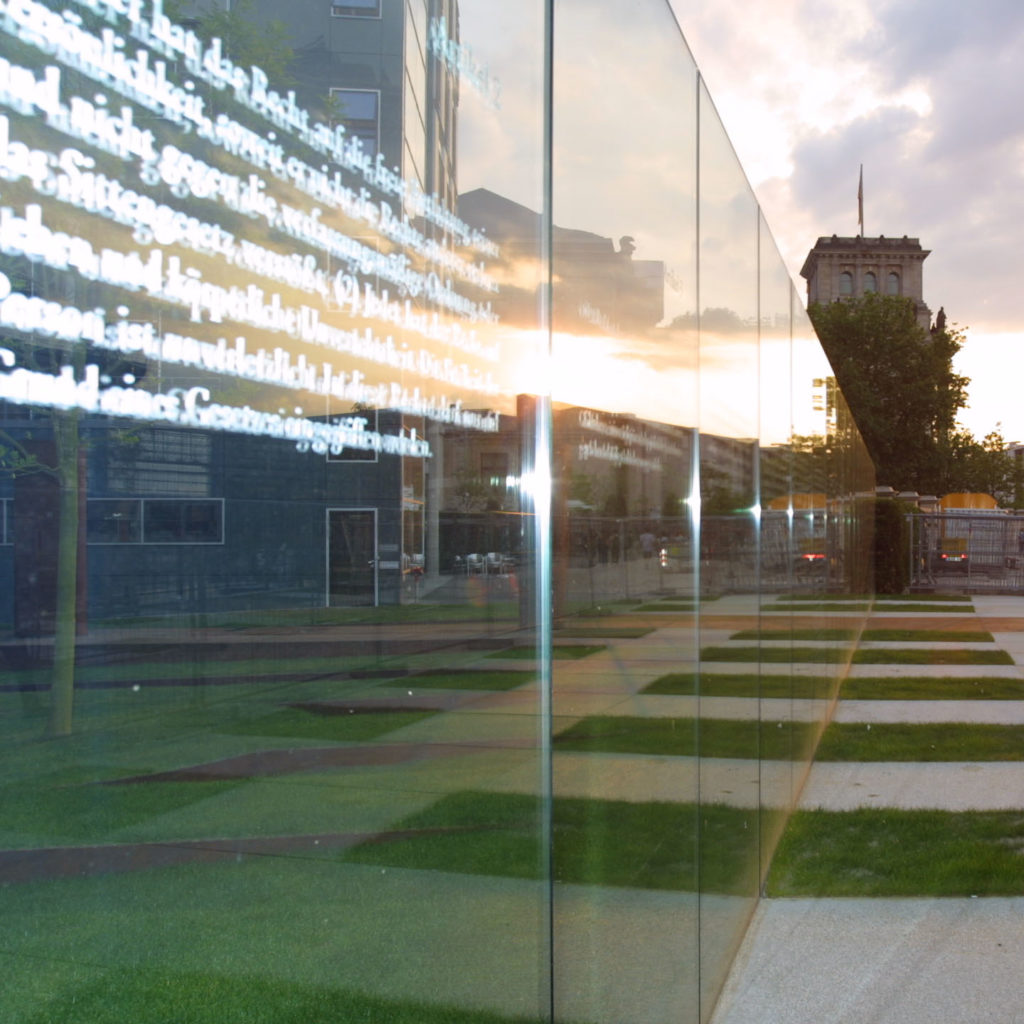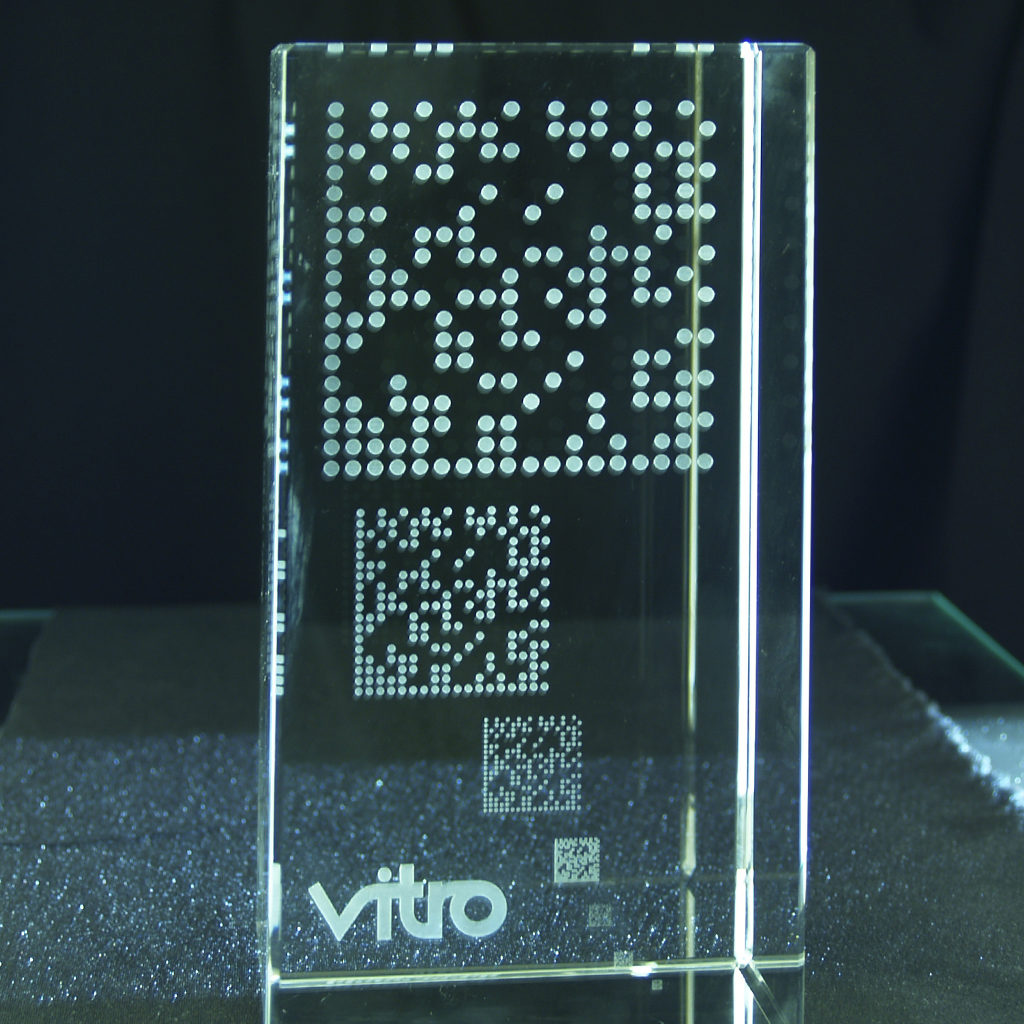 Text and data matrix code in an 8 mm glass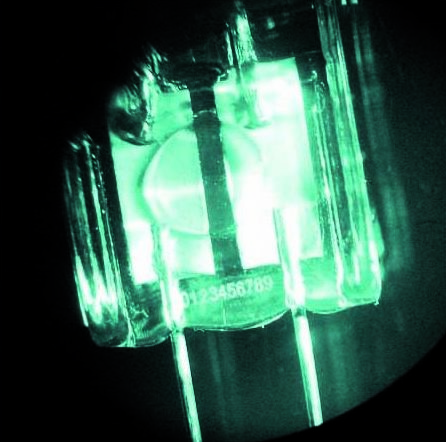 Serial number on halogen lamp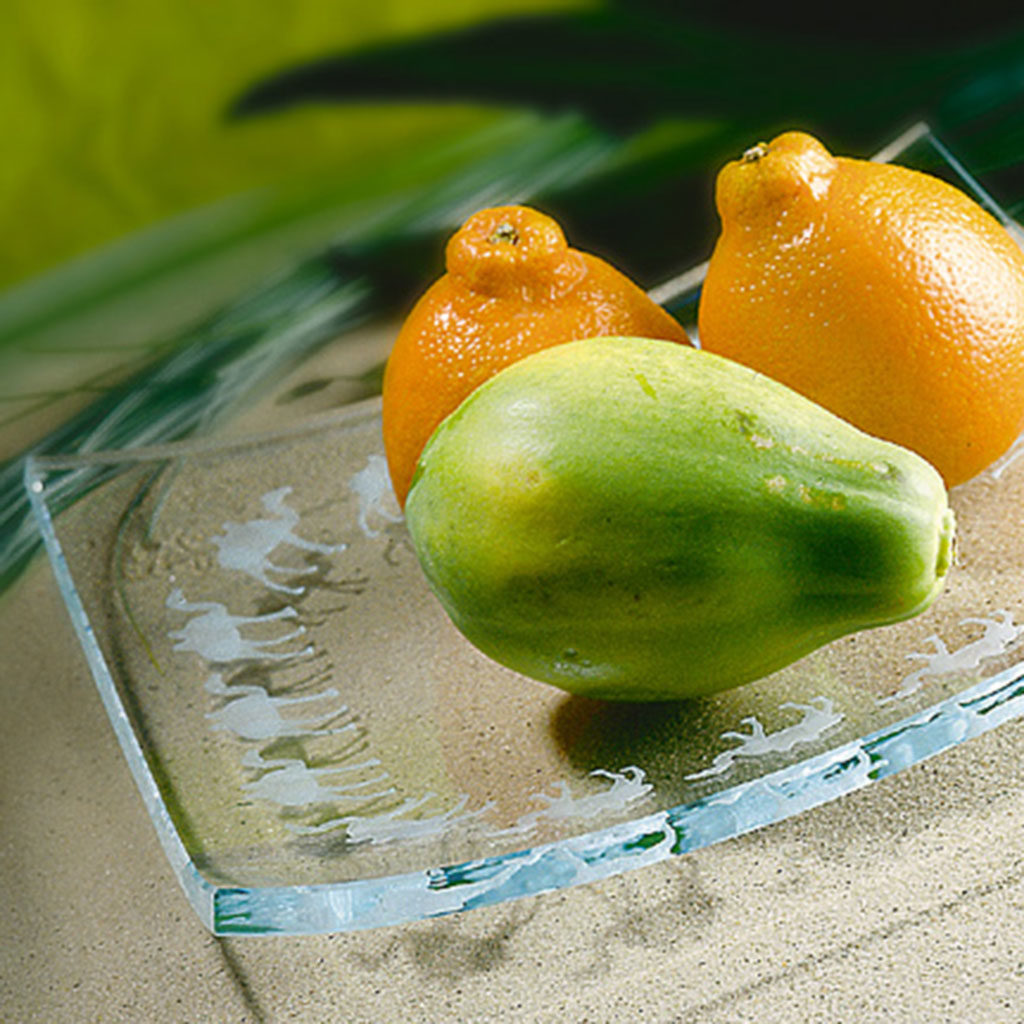 Bowl with extruded pattern
3D portrait vintage model, trophy with 2D and 3D engravings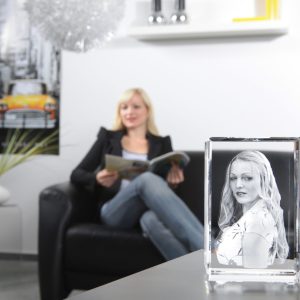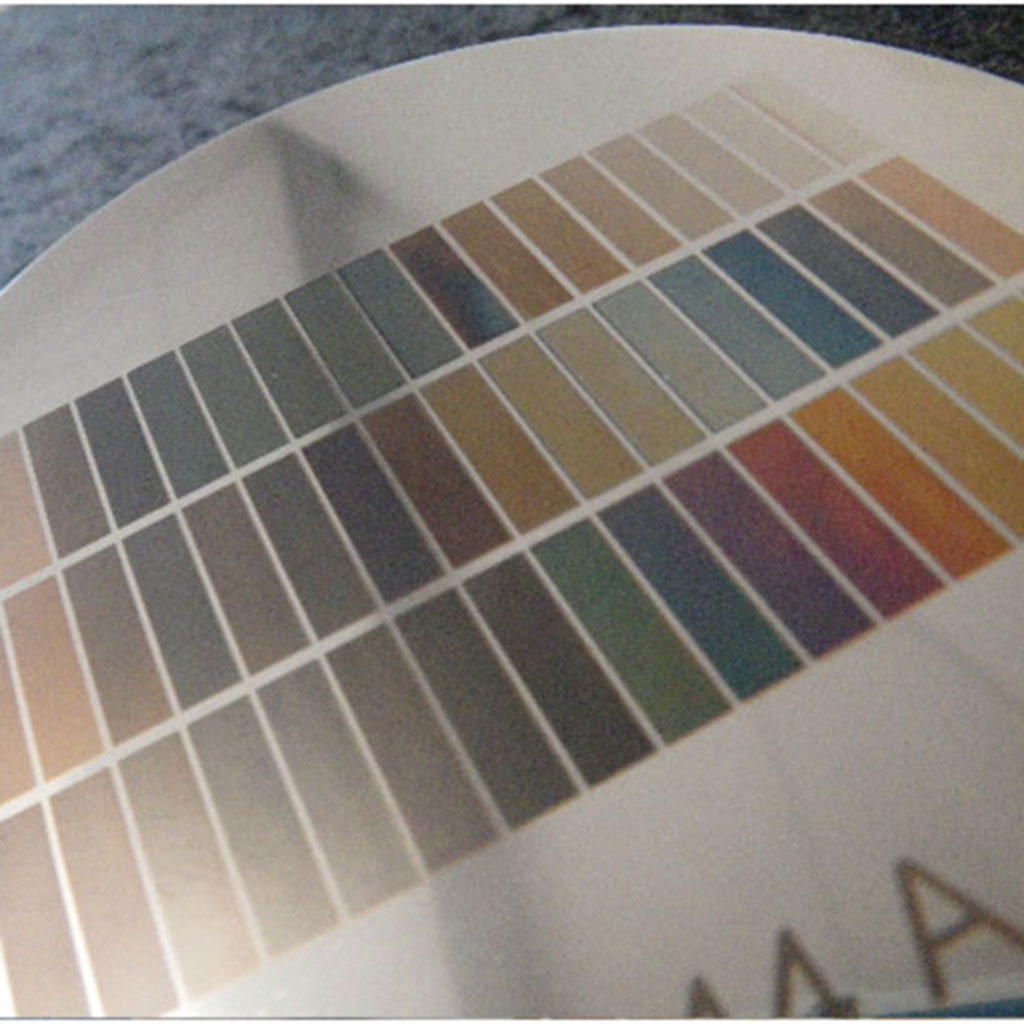 Surface matting with integrated patterns possible
In glass, sapphire, diamond and other transparent materials - we supply the system for it!
or even for drilling and cutting glass
3 holes of 1mm diameter connected with a 50 micrometer-cut. Disc thickness 0.15mm.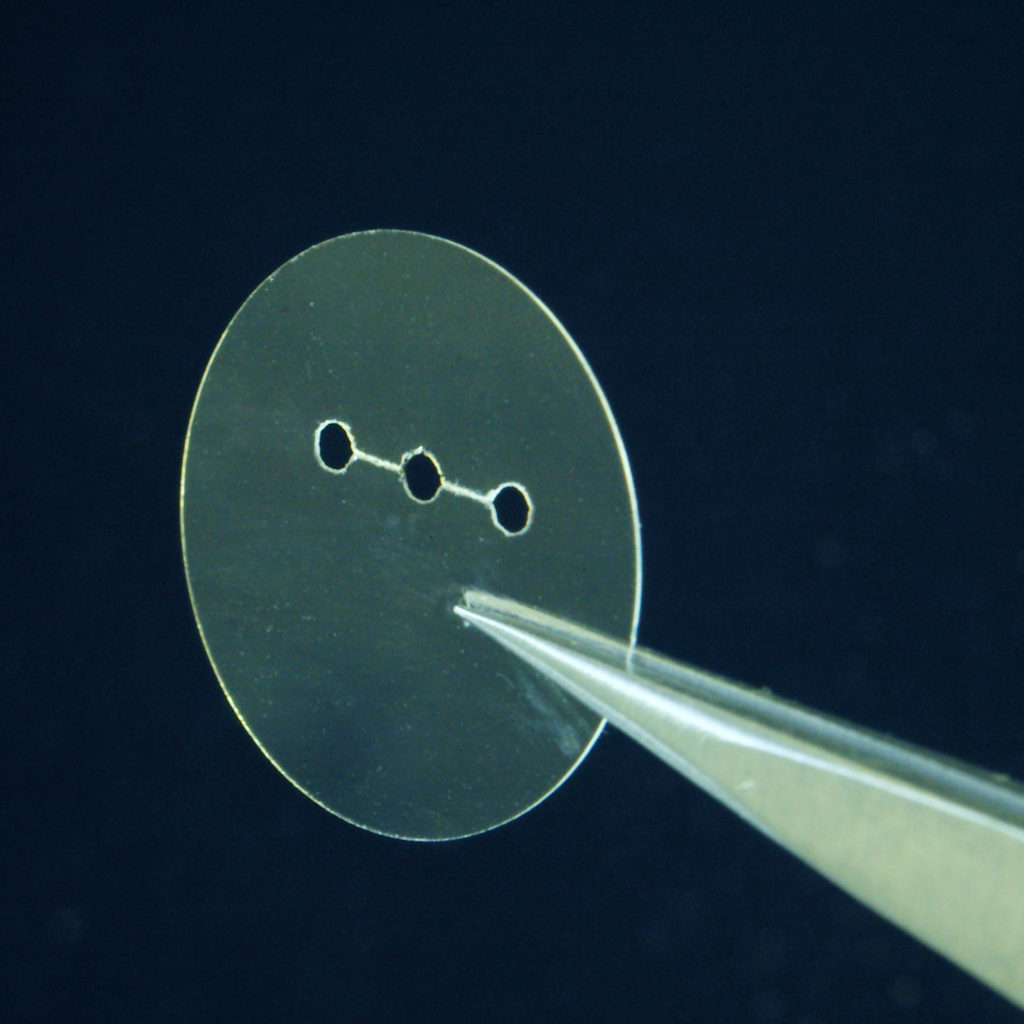 Square and round holes in 5mm thick glass pane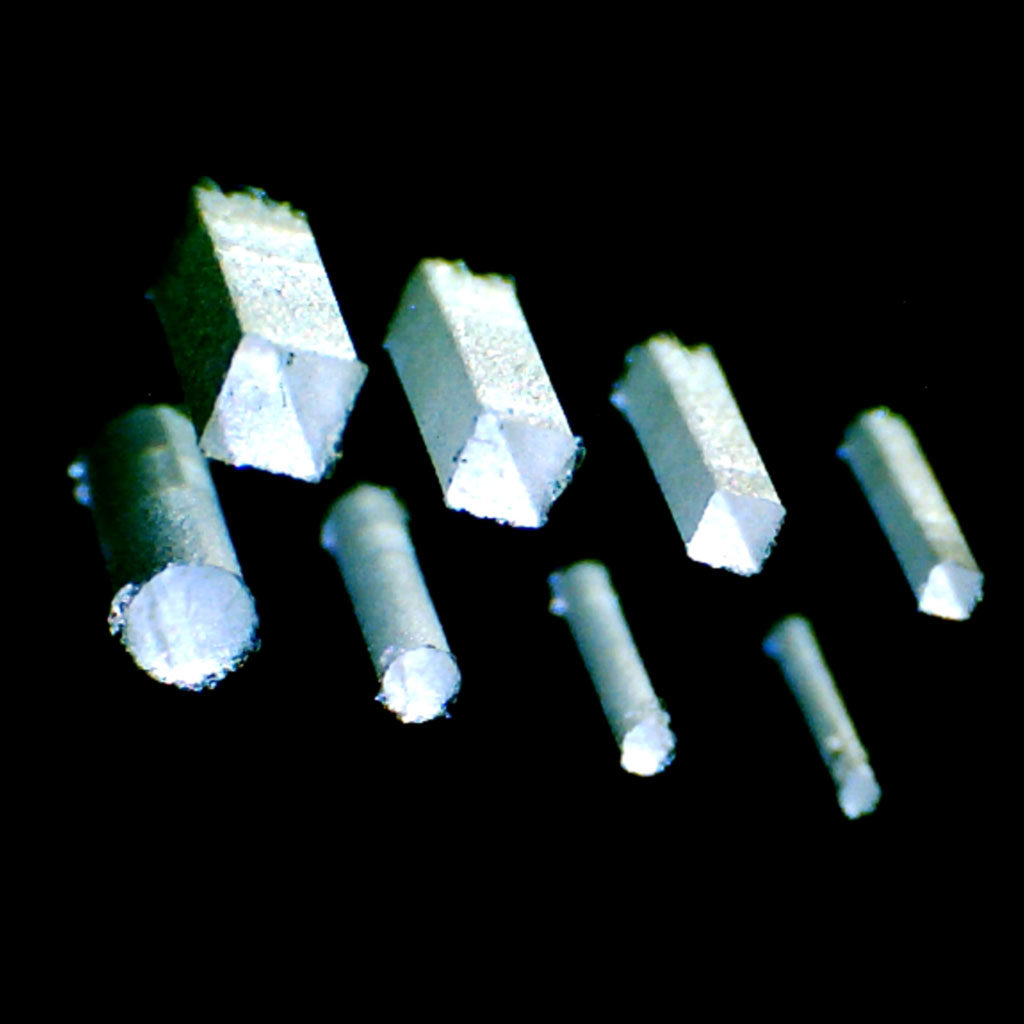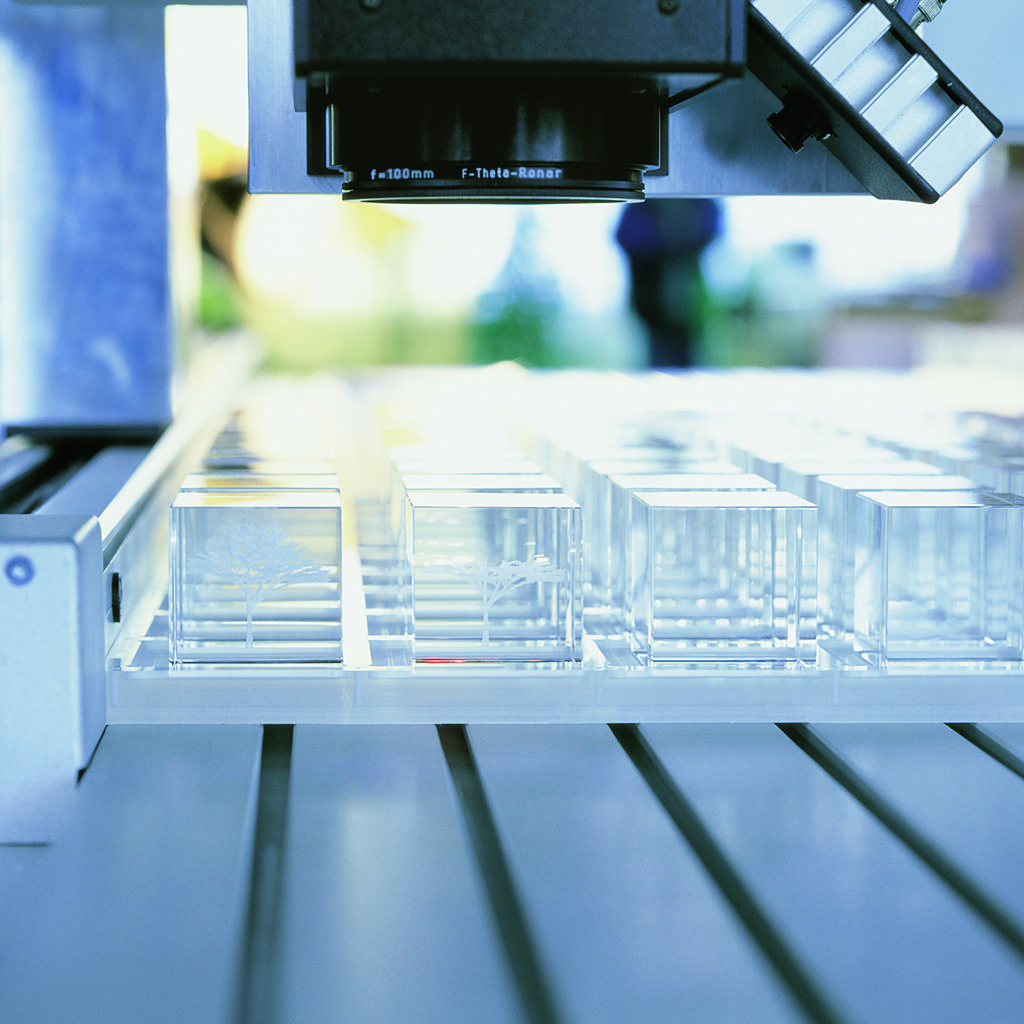 Integration into your production processes
Depending on the concept and requirements, our laser systems can be adapted to any production. Whether as a separate machine for manual assembly or as an integration in your production line.

All machines are available in laser class 1 or 4.
Our possible applications as transparent as possible
Light is our material. Vitro Laser Solutions UG is one of the world's leading developers, manufacturers and suppliers of laser systems for a wide variety of industrial applications. Our focus is on marking products below the surface. A surface engraving is of course also possible.
The unique selling point of the interior engraving is that the material is written on the inside. The result is an annotation that cannot be removed. Under normal conditions, subsurface engraving is non-destructive. The surface finish remains in its original condition, which is very important in medical applications or in the food industry. In other words, wherever hygiene has top priority.
Depending on the material, writing and marking is possible without destroying the surface.
This offers a wide range of opportunity both for product tracking within production and later for tracing. From logos and serial numbers to data matrix coding, everything can be engraved on a transparent material.
Most of the labeling can be done without using consumables. Intensive research work, a high level of quality awareness and continuous further development are the guarantors for an international market presence.
Examples of internal engraving
with 420dpi photo engraved on the inside,
drill holes a) 0.2mm, b) 2mm slanted c) square 3mm d) cross
example of brightness with different dot spacing
bar code, data matrix code and QR code
small 3D engravings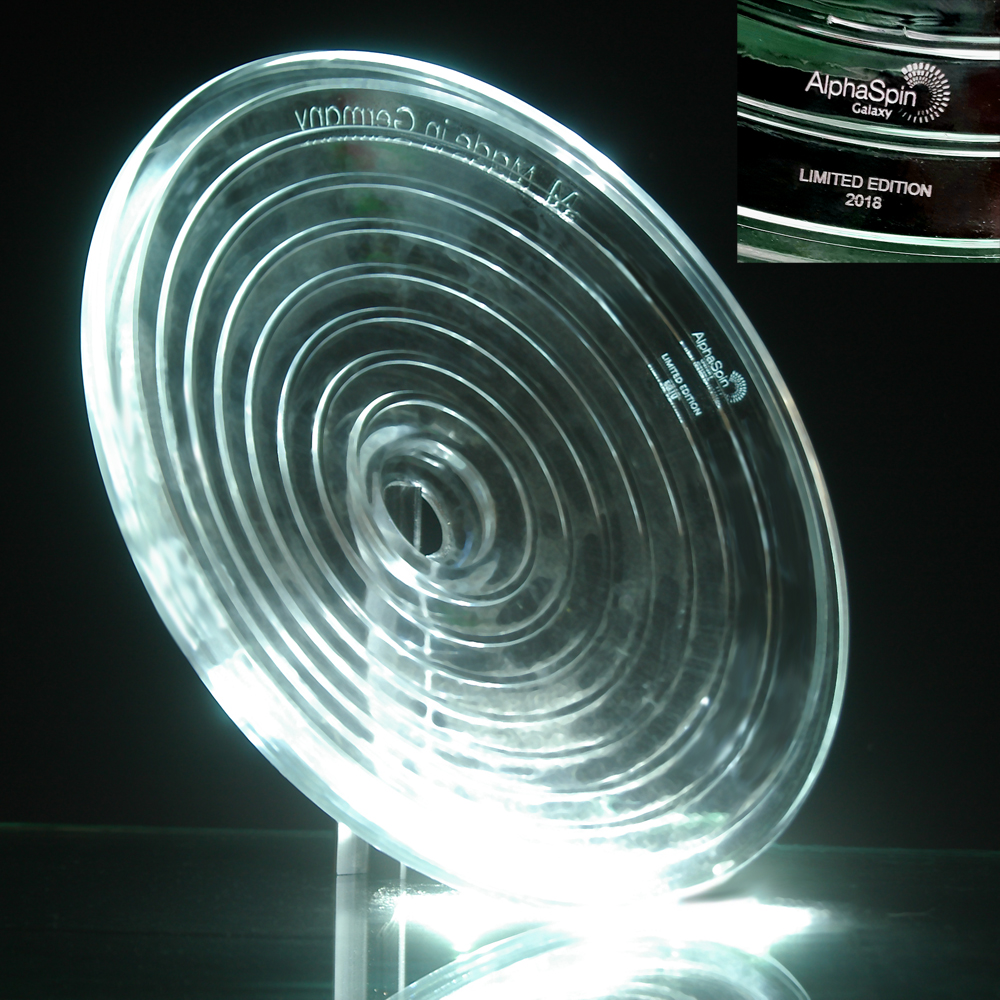 26cm diameter with type engraving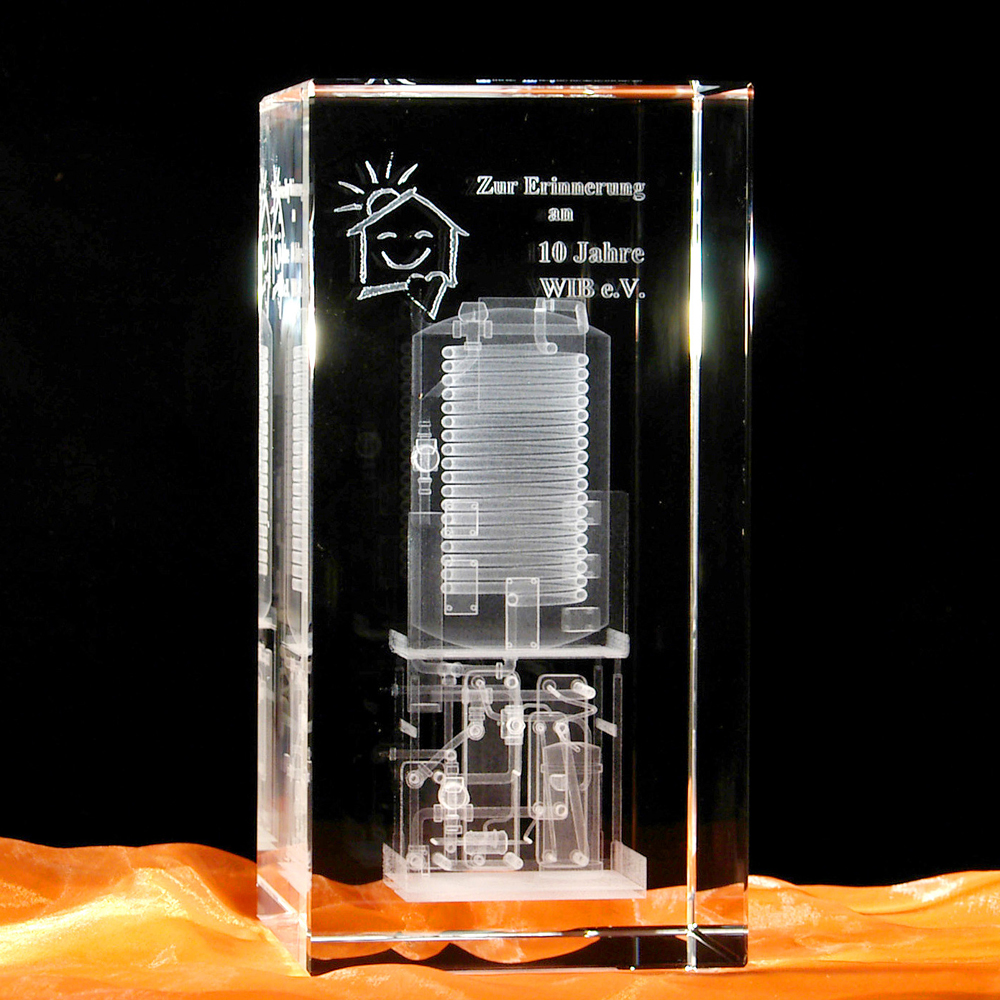 with technical 3D internal engraving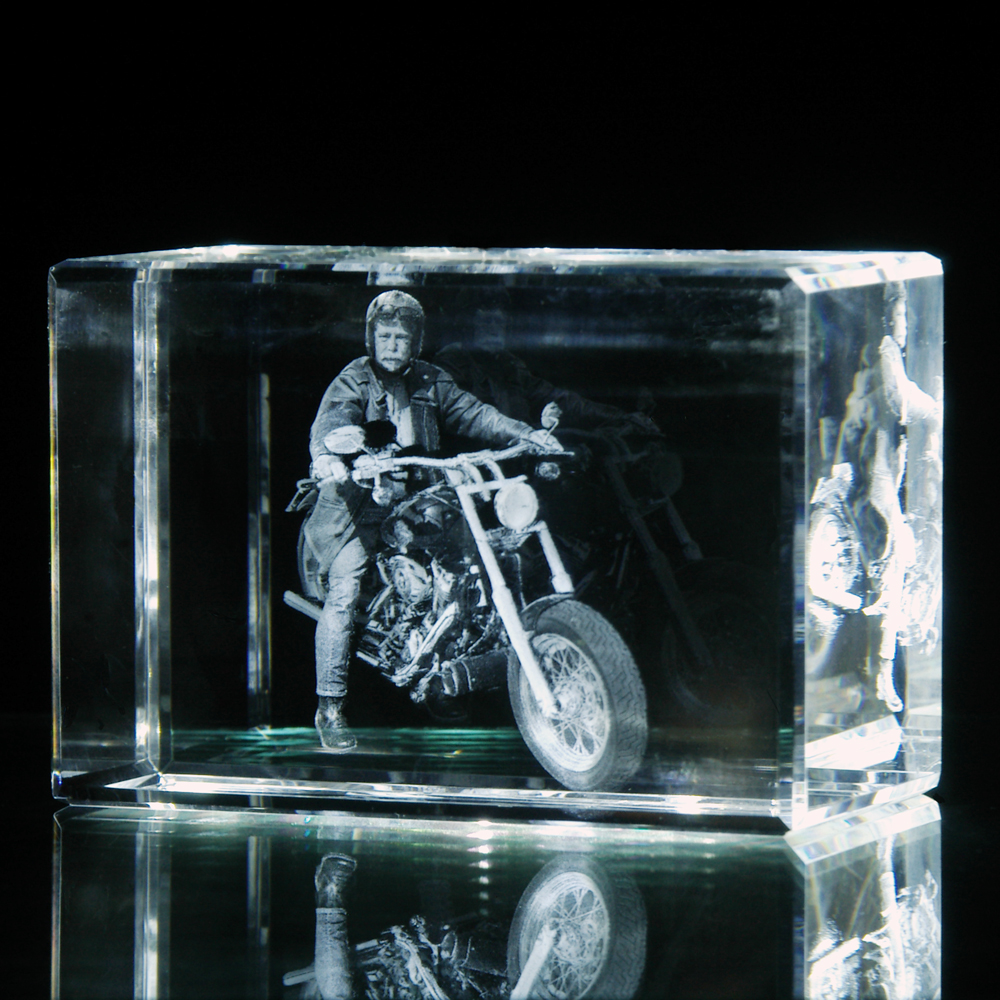 with 3D internal engraving created from a 2D photo
with color change for trade fair appearance
Examples of surface engraving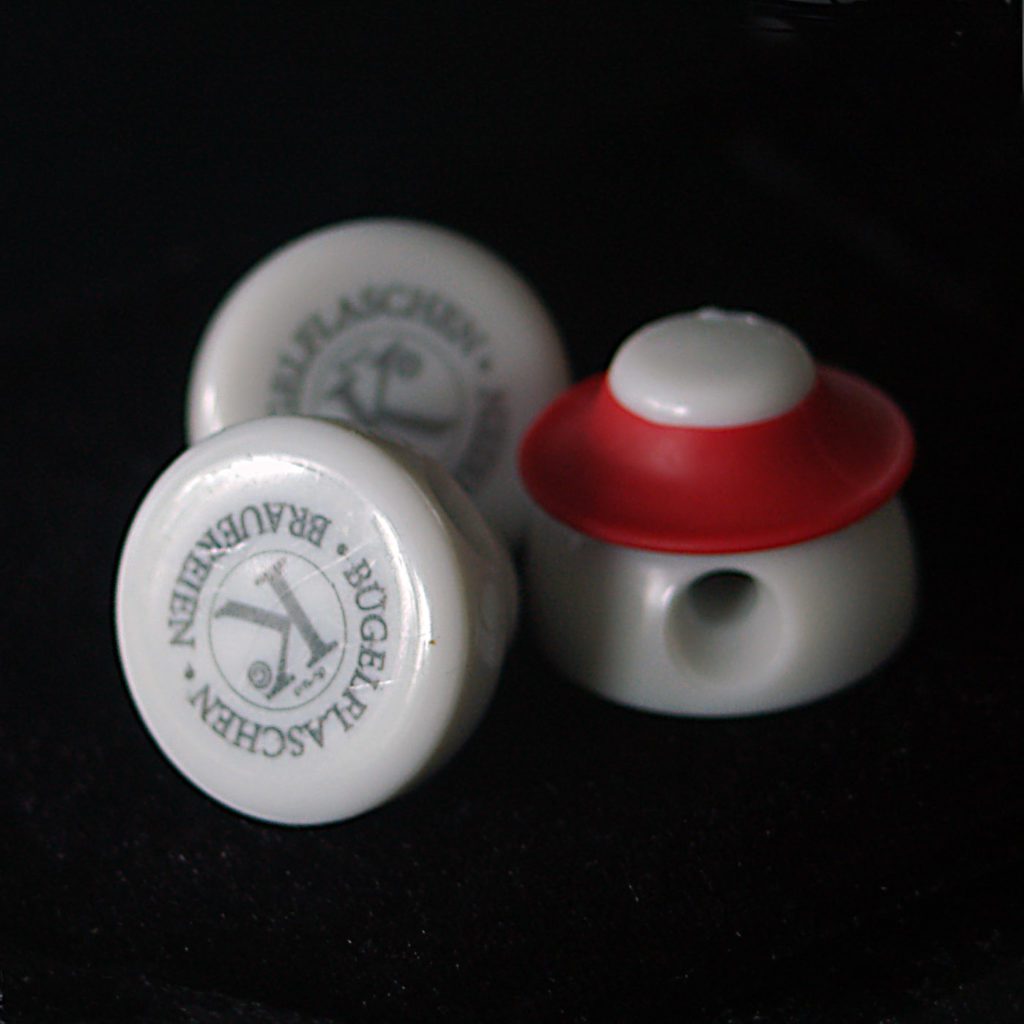 (Surface) engraving plastic
Engraved shackle closures.
"Surfaces" is bracketed because the engraving is below the surface in the plastic. This means that the engraving cannot be felt and is protected from damage caused by cleaning processes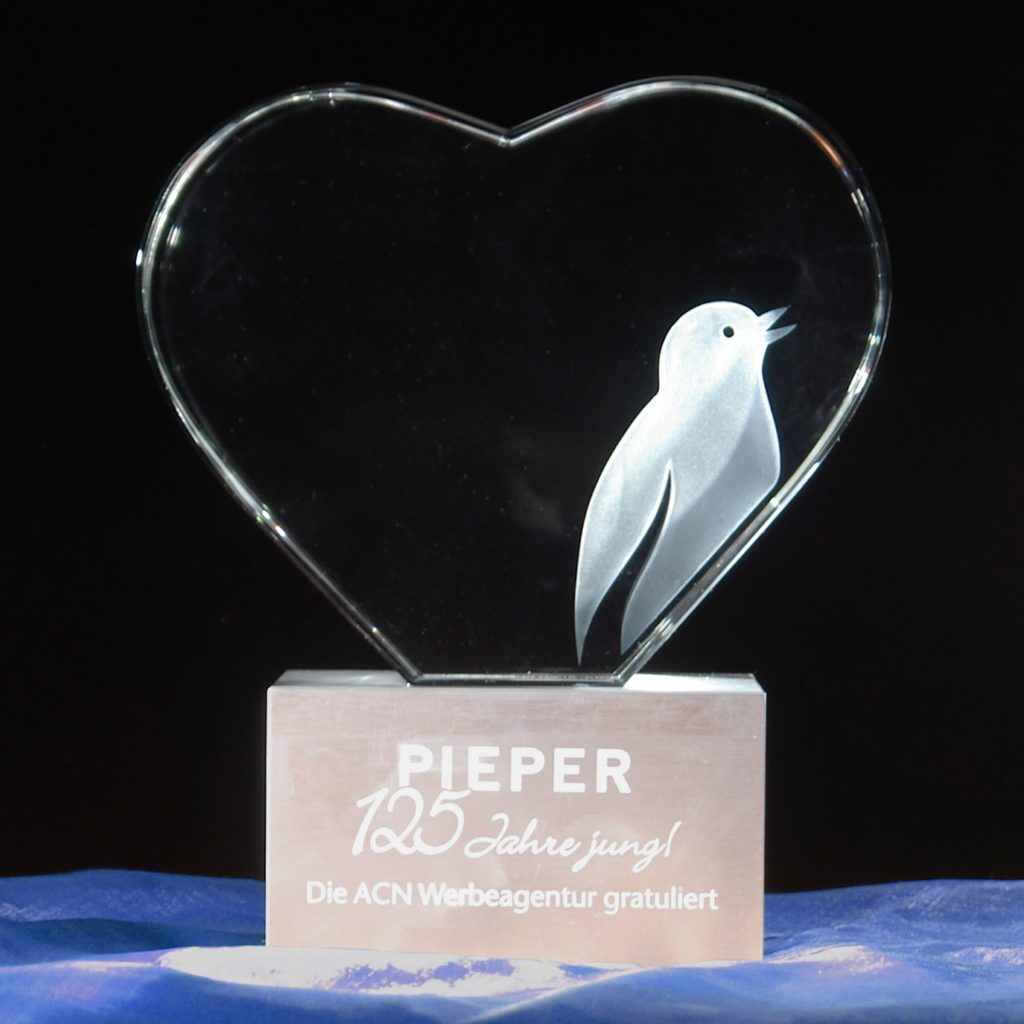 Surface engraving on aluminium
Aluminum base with surface engraving with applied glass heart with internal engraving.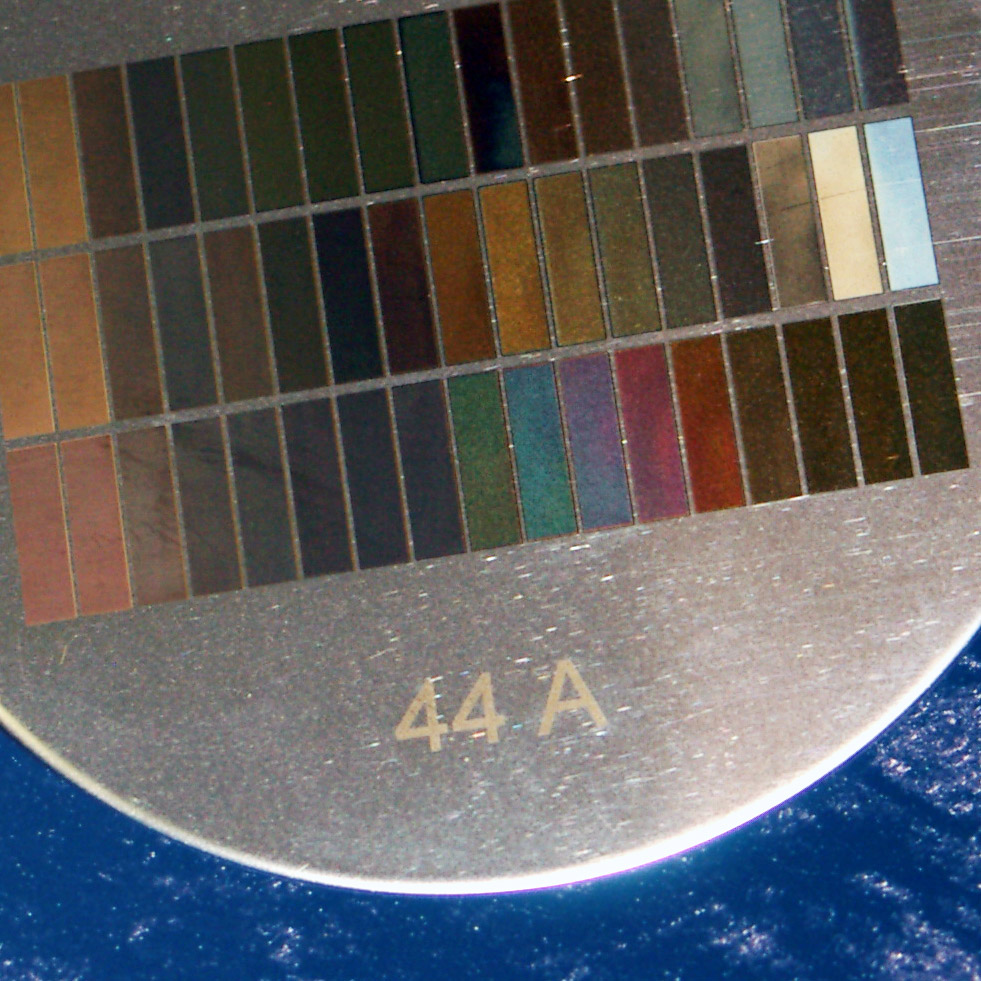 Surface engraving on stainless steel
A variation of different colors
The different colors are created by different Pointcloud densities on the engraving.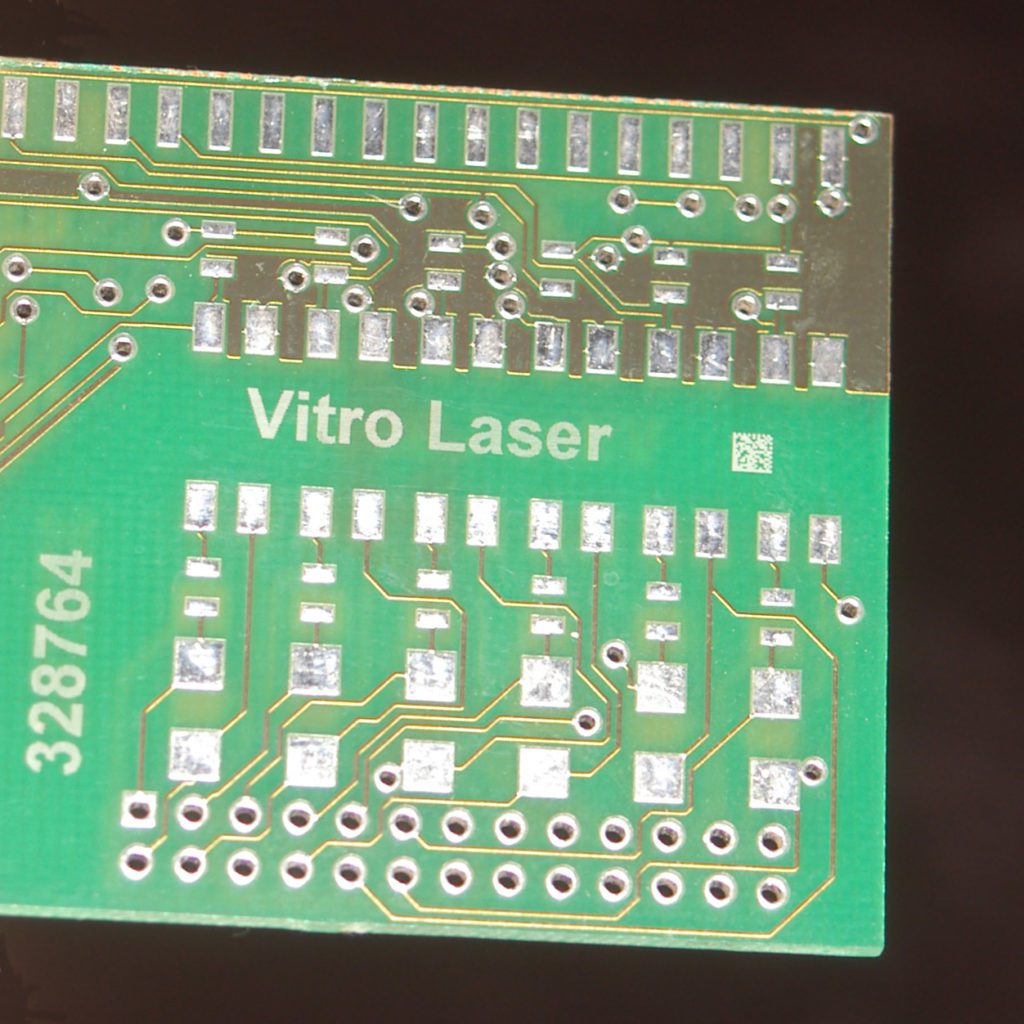 Surface engraving on circuit board
Number, text and small data matrix code engraved.
We offer you several options for integrating our laser systems into your production. Together we will find the optimal solution for your application, which can consist of standard machines, the integration of our OEM version into your production line or special machine construction.
​
Would you like to see the engraving directly in connection with your products? Then contact us to get a sample.
A simple first draft is free of charge for you. All you have to do is pay the shipping cost. Costs can arise in the case of time-consuming test series or large quantities. However, this will be clarified with you in advance.
Basically, all materials that are transparent to the wavelength of the laser light can be engraved on the inside.